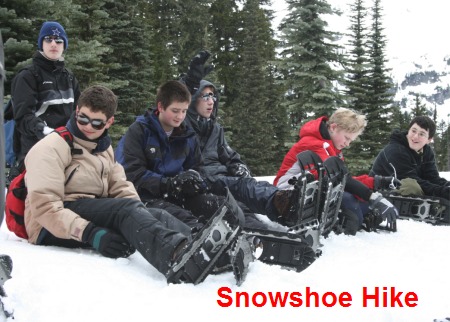 Ranger-Guided Snowshoe Walks
A park ranger will teach you the art of snowshoeing and help you discover how plants, animals, and people adapt to the challenging winter conditions at Mount Rainier.

Leaving the Harbor at 9:00 AM, then meet at the information desk in the Jackson Visitor Center at Paradise for a 1:00 PM reservation. Contact Ernie Carlson for details: 253-732-3465.

The walk will last about two hours. It covers one and three quarter miles of rolling terrain with spectacular views of the Nisqually Glacier, weather permitting.

The $15 event price includes admission to the park, and $5 snowshoe rental fee. Snowshoes are provided by the park only for those attending the ranger-guided snowshoe walks, and only for the duration of the walk. The park concessionaire rents snowshoes to anyone wishing to snowshoe in the park; check at the Longmire General Store for availability and rental rates. Or you may use your own snowshoes.

Please dress for snowy, wintertime conditions, and bring the 10 Essentials.

Warm, waterproof boots, a warm coat, hat, gloves or mittens, sunglasses, and sunscreen are all essential. The park provides snowshoes but not poles (you will sink into the snow even wearing snowshoes).

Tire chains must be carried in your vehicle when traveling in the park from November through April. The tire chains may be required on all vehicles (including 4 or all wheel drive).

Traction tires are recommended and may be required depending on conditions. Be prepared. Driving time from the park entrance to Paradise is one-hour or more (plus potential chain-up time) in Winter conditions. Please plan accordingly.

We have found that this activity is typically too strenuous for children younger than eight years old. They get tired and donít have fun. However, we do have childrenís snowshoes and will take any child who really wants to go. You are the best judge of your childís endurance and attitude.